PARENTS' HANDBOOK
TAt Global Ecokids, children are nurtured, cared for and instructed according to the modern methods, focusing on respect and discipline. We also focus on motor activities and the outdoors. Children are free to explore and develop naturally based on the spirit of respect for differences.
CLASSES
Global Ecokids International Preschool provides learning programs for children aged 18 months to 6 years old. We maintain small classes with a desirable teacher to student ratio. 
Ages
 Class
 Name
 Teacher-child Ratio
 Maximum Class Size
 
 
18 tháng – 2 tuối
Cherry
1:4
16 học sinh
2 – 3 tuổi
Kiwi
1:6
16 học sinh
3 – 4 tuổi
Orange
1:6
18 học sinh
4 – 5 tuổi
Apple
1:7
18 học sinh
5 – 6 tuổi
Pineapple
1:7
21 học sinh
Combined age class:
In case the number of students of any particular age group falls below half the maximum number of students, ages groups may be combined into one class. 
DAILY OPERATION SCHEDULE
Global Ecokids International Preschool operates daily from 7:15am to 5pm. Appropriate changes are made depending on the curriculum and age group. The schedule of daily activities is as follows.
OUTDOOR ACTIVITIES:
The school regularly organizes outings and field trips for children to:
• Participate in extended outdoor lessons
• Learn and explore the environment
• Arouse their ability to observe
• Learn to utilize public spaces 
• Develop social skills
PHYSICAL EDUCATIONAL ACTIVITIES
The school organizes weekly activities like going to the park, playing soccer, doing yoga, and and doing aerobics. Parents should prepare clothing appropriate for these activities.
Physical activities not only help children have a healthy body but are also a great way to help children become more confident, learn a new skill, and build respect for safety rules in sports. All children are encouraged to participate in physical lessons.
* Physical education activities are dependent on fair weather conditions.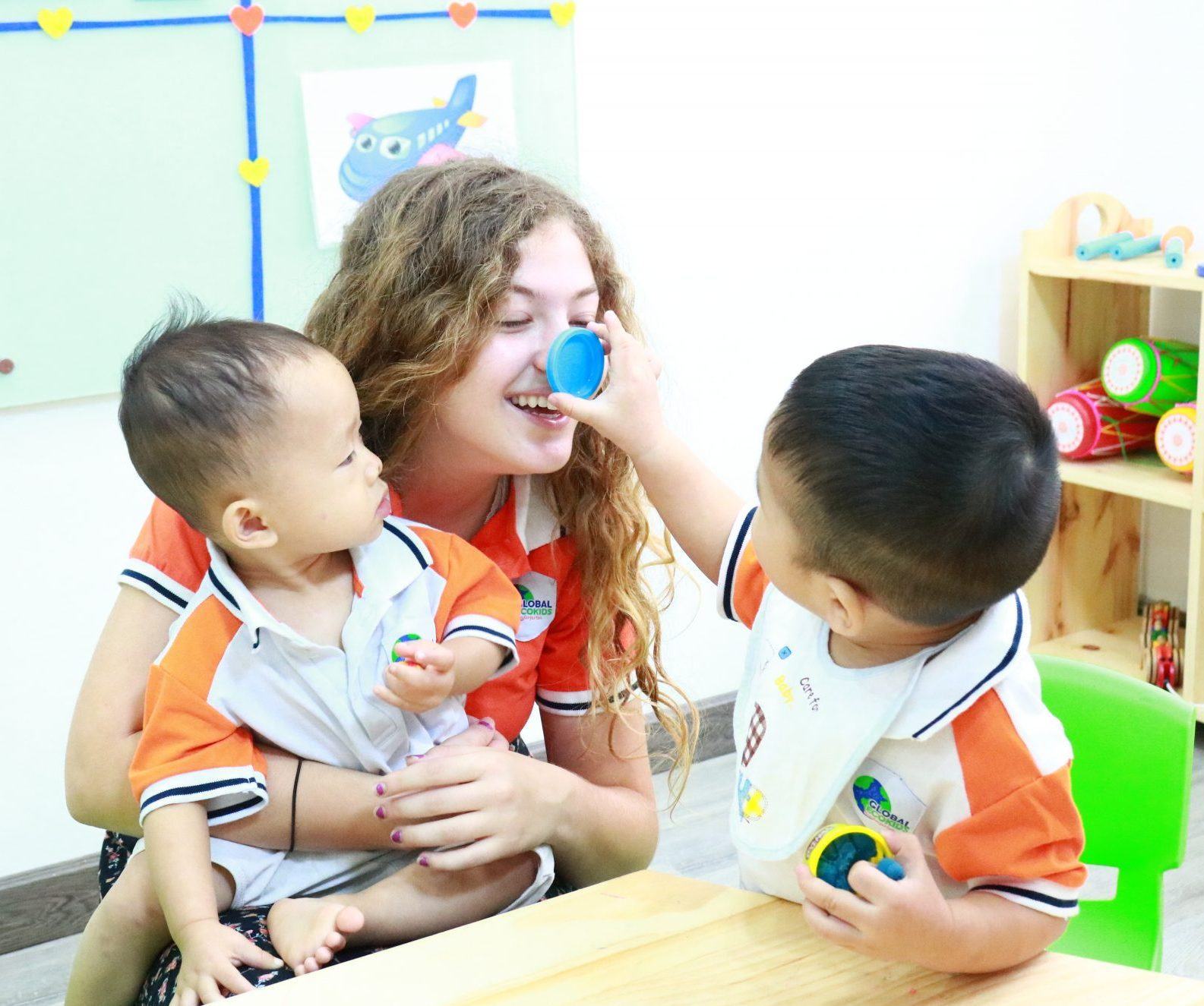 GENERAL REGULATIONS ON SCHOOL ACTIVITIES
1. DROPPING OFF AND PICKING UP STUDENTS
For children's safety, parents need to sign a child delivery sheet. Parents should pick children up at the same designated place where they are dropped off.
• 7:15am-8:00am and 4:30-17:00: direclty in class
• After 8:00 and before 17:00: in the school lobby
• Classroom visits between 8:00am and 4:30pm: Parents and guests should receive consent from the cooridnator before entering the classroom area to ensure minimizing the impact on children's learning during school hours.
• Special cases: Parents can request that another relative who is not registsered to pick the children up go in his or her stead. The school requires specific information and confirmation but reserves the right to prohibit that person from picking the children up in the parent's stead.
2. COMMUNICATIONS BETWEEN PARENTS AND SCHOOLS
The school wishes to accompany parents in children's education and appreciate the importance of regular communication between the school and parents. We provide regular information to parents through the school portal including:
– Daily photos of the student
– Student's weekly report
– Notifications from the school (events, outdoors, new activities)
– Notes from parents (planned absences, comments, prescriptions)
(*) Parents should update information regularly on the school portal
3.CHILDREN'S DIET RESTRICTIONS
The school encourages children to eat based on their individual needs. For special circumstances, parents should speak to the classroom coordinator or teacher to get the best plan for the child.
4. CHILDREN'S BIRTHDAY
The school will organize birthdays once a month for children who have a birthday in that month. Parents are encouraged to bring a birthday cake or snacks to share with their classmates. They can contact the classroom teachers in advance to make arrangements.
5.CLOTHING
Children are required to wear a school uniform. For safety reasons, the school requires children to wear uniforms on all field trips. Parents who would like to purchase additional uniforms can contact the school office.
Dirty clothes: To protect the environment, the school refuses to use plastic bags to store dirty clothes and towels. Please send 2 cloth bags or recycled bags in the child's backpack.
6.CHILDREN'S HEALTH:
Check children's body temperature: In order to provide the best health care for students, Global Ecokids applies a medical policy to check the body temperature of all students, parents, staff and visitors on arrival. This helps to prevent viruses from spreading to other children. The school has the right to refuse students entry into the class when there is a body temperature above 38oC.
Contagious Diseases: To avoid potentially infectious diseases in children. Parents are encouraged to keep their children at home if they have symptoms of illness like diarrhea and vomiting, and especially if they have symptoms of influenza, measles, fever, red eyes, hand-foot-mouth, chicken pox, and mumps. Parents are welcome to send their children back to school after they have completely recovered and have a doctor's certificate.
Children who are ill at school: If a child becomes sick while at school, we have a medical officer who looks after the child while waiting for a parent to come for pick up.
Medication: Parents can send medicines to their children for use in the classroom but shoul not put the medication into the child's backpack. All medications should be submitted to the receptionist with clear instructions or prescription. The school is not responsible if parents fail to follow these instructions. Children taking antibiotics should do so at home.
In an emergency medical situation, we will transport the baby to the nearest medical facility.