DRAMA BASED ENGLISH PROGRAM GLOBAL ENGLISH
DRAMA BASED ENGLISH PROGRAM
GLOBAL ENGLISH
(For children from 2 to 12 years old)
Somne parents worry when children learn English starting at preschool age. Parents think that their children do not yet speak well enough in their mother tongue to start learning English. But parents should know:
• From 12 months, babies have developed the ability to speak and listen
• From 1 to 6 years of age, children can distinguish between different types of language if we provide and interact with them properly.
• Early language learning helps children develop reflective and logical thinking.
METHODS IN GLOBAL ENGLISH:
1. Immersion

2. CLIL – Content Language Integrated Learning
3. Inquiry-based Learning
4. Learning through play
5. Combination: Project-based and Drama-based Learning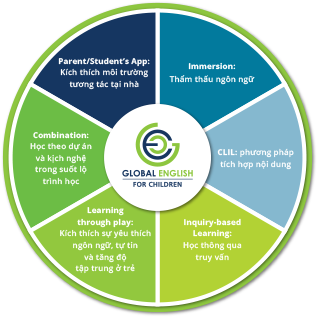 KHUNG CHƯƠNG TRÌNH GLOBAL ENGLISH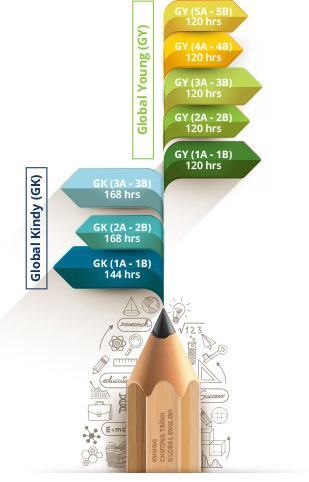 At Global English, we understand the importance of children's development during the golden period. Therefore, we customize the program for child.
We are confident in instilling into children:
• Interest in language
• Strong phonetic foundation to develop the 4 individual langauge skills: listening, speaking, reading, and writing
Daily application of the language
• Use of the langauge in expressions and vocal pitch
• Application of foundational skills
• Stimulation and creativity
• Positive behavior